You've booked the flights, and dreaming of the turquoise waters and white sandy beaches, but what do you need to put in your suitcase? Here's our guide to what to pack to Cancun, Playa del Carmen, or Tulum
Mexico Beach Packing List
Cancun is only a short flight away from the US, and its party atmosphere combined with idyllic coastline makes it a favorite getaway destination. There are also some of the most beautiful beaches in Mexico in and around Cancun.
You really can do Cancun your own way. The whole of the Riviera Maya, which the coastline that runs from Cancun, through Playa del Carmen, and down past Tulum, is so diverse, that whatever your style or budget, you can find activities to suit you!
We're going to give you the ultimate Mexico beach checklist for traveling to Mexico on your next vacation, so you can look fabulous by the pool, and impress on nights out too!
Cancun, Playa del Carmen & Tulum Packing List
Beach Wear
The beaches of Cancun are known as some of the best in Mexico, and often even the world. The color of the water is such an intense azure that it needs to be seen to be believed, so it's no wonder that Cancun & the surrounding area is home to a great number of the most beautiful beaches in Mexico.
You can also travel very light and purchase fashionable, trendy clothes and great prices once you arrive in Mexico.
Swimwear & Bikinis
No matter your shape or size, bikinis are big in Cancun. From high-waisted styles to Brazilian-inspired barely-there bottoms, you need to include a fancy swimsuit that makes you feel great for your trip!
From taking the party from the beach to the restaurant, a sheer beach cover-up is an in-style way to do it – and they help to cover up anybody
insecurities that all women have.
Long flowing designs with embroidered patterns are on trend for this season and can take a casual beach look like a runway masterpiece.
Once you have the essentials, it's all about the accessories. Team your look with a sun hat. Not only will you look sharp and keep flyaway hair at bay, but it will also help keep the bright Caribbean sun off of your face.
You'll also need polarized sunglasses, to protect your eyes from the harsh rays too. Finish your look with chunky, statement earrings for Instagram-ready pictures and make your look just that little bit more wow!
Men Packing List to Cancun, Playa del Carmen & Tulum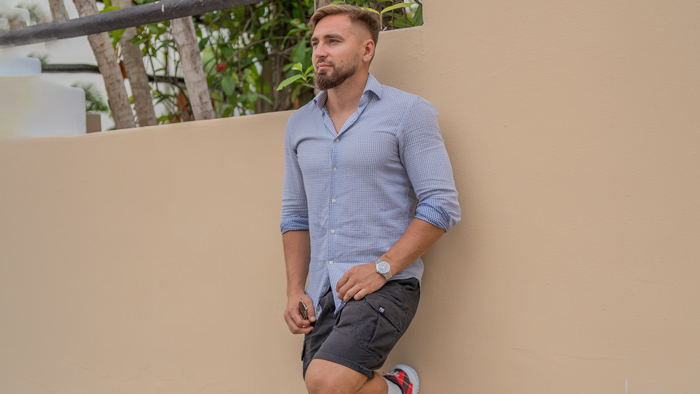 For guys, it's a bit simpler. Swim shorts are the go-to option, but feel free to let your personality shine. Take on a bright color or cheerful print to stand out from the crowd.
Sandals are a finishing touch. The sand and salt of the beaches can be destructive to your nicer shoes, but classic brands like Havanans make options that look great for the beach and club too.
Day Trips
While around Cancun, you might explore the local area, which has archeological ruins left from the Ancient Mayan civilizations that lived here. Chichen Itza is a popular site, listed as one of the seven wonders of the world, and is a favorite excursion of tourists to Cancun.
Even if history isn't your thing, daytime looks in Mexico are causal and need to be breezy. Light, woven fabrics are key, and avoid man-made polyester blends that will be sticky and make you sweat.
Denim shorts are a vacation staple that can be dressed up or down. Wearing these on your Cancun, Mexico vacation is a great option, plus one pair can be worn multiple times, helping you pack more efficiently.
Team it with a cool, long-sleeved, oversized shirt and sunhat, for a cool look while exploring the ruins. There's not a lot of shade in these areas, so a light-colored outfit will help keep the sun's glare away. Long sleeves will also keep your skin from burning.
For a shopping trip, team those denim shorts with a couple of cute tops and sandals. There are many malls to enjoy in Cancun, with a plethora of high-end, designer brands, along with local markets, that offer good value.
Cancun by Night
If you're staying in a resort during your Cancun vacation, then you can get a little fancy during your evenings.
Guests see their vacation as date night every night, so slip on those dancing shoes and a fancy dress to enjoy your evening.
You may also want to check to see if your resort has a dress code for the restaurants. Some of them require men to wear long pants and a collared shirt for evening meals, so you may need to factor this into the outfits you bring.
Even if you aren't staying at a resort, the bars and restaurants of Cancun become alive at night.
You can let your style rule, although you'll find people wearing glamorous mini dresses and heels (or wedges if you want something a little more stable), you'll also have others dressed up in denim shorts and sparkly tops.
A midi dress can look classy, and elegant, or you may even opt for a jumpsuit look if you find your ankles are prone to be nibbled at by mosquitoes.
Remember to pack your accessories. Jewelry really completes an outfit and can help you feel fancy enough to dance all night. When packing look at your color palette and try to stick to complementary colors, so you can get multiple uses out of your outfits.
If you are planning on having more of a party vibe, Cancun is famous for its nightlife, with clubs like Coco Bongo, where you can enjoy the incredible atmosphere while dancing the night away. On this type of trip, ditch the heels for some fancy sandals that still look dressy, but in which you can dance all night long.
If you travel to Cancun in the winter months, you may wish to also pack a light jacket for during the evenings as it can get a little bit cooler.
A linen shirt is always a great option for men, which can be worn with shorts and trousers. The light fabric is cool, yet stylish and works well with the Caribbean feel of the area.
Boat shoes are a popular footwear choice, or even leather sturdy sandals, like Birkenstocks can be worn for a more casual feel.
What to Pack for Tulum?
Tulum, Mexico is a laidback beach destination filled with yoga retreats, fun nightlife, beach clubs, eco-resorts, and plenty of outdoor adventures.  After spending an entire week of visiting beaches, luxury hotels, ancient ruins, crystal clear cenotes, and the hottest dining spots.  Many of the same rules apply to the Cancun packing list however the nightlife in Tulum can be a bit fancier.  So you may want to bring a couple of nice dresses and heels.
Create Amazing Memories of your Cancun Vacation
While you're on your vacation in Cancun (and dressed fabulously, thanks to this Cancun, Mexico packing list!) why not book yourself a photoshoot to help capture the amazing memories from your vacation.
If you need a photographer in Cancun, Playa del Carmen, or Tulum, please give us a WhatsApp +1 (713) 578 0080 or an email. We would love to earn your business!